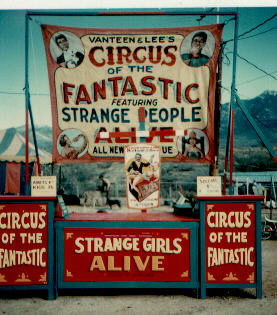 ---
The Circus of the Fantastic Begins
January, 1959, Torchy Lee and I moved into a trailer park in the Echo Park area of L.A. I went back to work driving for Yellow Cab. We had acquired some more show equipment, and we traded in our Cadillac on a little Willys station wagon. I quit Yellow Cab in April, and that was the last I ever worked for anyone else, even up till today! We contacted Mr. Chapman, owner of the Foley and Burke Railroad Carnival in Santa Rosa, CA. He had a big old heavy steel banner line, tent, stages, and show wagon (the show wagon is one of many wagons that carry equipment on flat cars on the train: when the destination is reached, the wagons are pulled off the flat cars and towed to the show grounds by tractor, where they are placed on location). We had inside equiment and banners, as well as p.a. sound equipment. He booked us for 40% of the ticket sales to the office. The Carnival opened the season in Santa Rosa in May. Foley and Burke was a fifteen car railroad show, the only one in the west. It played the same locations every year, due to being limited to going where the railroad lines went. Some of the fairs we played were: Petaluma; Fresno; Bakersfield; Madera; Merced; San Jose; Yuba City; Chico; Modesto; Pleaseanton; Stocton; Sacramento (State Fair); and we always closed at the Ventura County Fair. (This is not the order we played them in, 'tho.) Our show consisted of the following: Super-X Illusion; Shrunken Head Illusion; Atomic Girl (we didnt have an electric chair but we had the gimmic, so Lee stood on a pizza pan, and did basically the same act as the electric chair: I'd light torches off her tongue or finger tips, she'd light neon tubes, etc.); we had a Fire-Eater named Bill Unks, and a Blade Box. We also pitched the Blade Box- for a "donation" we would show people how it was done (always a big money-maker!). Lee handled and lectured on snakes- billed on the outside as "Sheila and her Reptiles". I did all the magic billed outside; the magic act was usually the "stall act"- that's stretching the act to hold the tip (the "tip" is carny slang for the audience or customers) while the talker is turning the tip on the outside, or holding the tip when business is slow. The only problem was I was both talker and magician! So sometimes I used a tape recorded outside when I was inside, and we usually had a ticket seller who could do a little talking (or "grinding" in carny). I worked the front, made most of the openings, and turned the tips. I used the Escape Cross with girl to build a tip. Inside, I'd do the magic act, and pitch. My magic act consisted of the Egg Bag; 20th Century Silks; my card fans and flourishes; and when stalling, I'd do the Miser's Dream and Abbott's Dissecto (and would you believe I still have the same one I used back then!). My card work was my specialty and the highlight of my act- even today I still do card fans, etc., when my arthritis allows, that is!........Working for Mr. Chapman was a fellow named Glen Beal (aka. Gary Hearn), who was the show painter. He was an excellent artist. He had formerly owned his own sideshow, and was an all-around showman and magician. We became very good friends, and on our evening shows he'd come in and do a little magic. He had a very good rope routine. He had an idea for framing a headless girl illusion that was very inexpensive and different from the standard way. So we built it and put it in the blow-off, and it made money! He used to really love to beat up a storm on our big bass drum to scare up a tip. Over the next twenty years he did most of our show painting: ticket boxes, fences, signs, and even some banners. In later years he worked for us full-time. He passed away in the early 80's........We stayed with Foley and Burke the whole season, closing in Ventura. In just this season, Lee and I had made more money than we'd ever made before, and enjoyed every minute of it because we were working for ourselves. We were able because of it to buy bigger and better equipment, too. During the season, we'd sold our Willys to Gary Hearn, and bought a used 3/4 ton International pickup. I put a rack on it, fitted the sides of the truck to carry break-down platforms, equipment went inside the bed, and later our poles and bannerline went on the top of the rack. We had an electric generator for emergencies on the right running board, and on the left a box that carried the steel tent stakes. The Blade Box folded down and was carried in a case on the outside of the truck. A very compact load! We pulled our 16ft. house trailer behind.......After closing the season, we returned to L.A., where last winter we had become acquainted with George Surtees, a veteran showman and talker; and his wife, who were the guardians of Schlitzie the Pinhead (more on Schlitzie later, they worked with us the following three years...). George had built us a 80-ft wooden banner line which was a lot easier to handle than the very heavy steel one we'd been using all season! We also bought a 20x60 tent from a tent and awning company in L.A........Off we soon went to Coolidge AZ. to join Capell Bros. Carnival at their winter quarters there. We had with us Bill Unks the fire eater, and Leilani, who was an impersonator and sword-swallower. We played around the cotton camps of southern Arizona in November and December. In November, Lee and I made it official by getting married, in Coolidge......January, 1960, found us back in the L.A. area. We spent the rest of the winter in a trailer park in El Monte, just resting and visiting other show people. Every week we'd go downtown L.A. to the PCSA (Pacific Coast Showmens Association) on Hope St. to "cut up jackpots" (in plain english that's just shooting the breeze and exaggeratng a bit!).
---
Touring the West Coast- and Hawaii
In May, 1960, we booked back on Foley and Burke. The lineup was Gary Hearn, doing mechanical magic and lecturing; his girlfriend came along as a bally girl; Bill Unks was back eating fire; Lee did her snake act (with bigger snakes this season!); Chet Franklin was relief front talker and ticket seller. His wife Sandi was the Atomic Girl and Sponge Girl (Blade Box). We left off the Head Shrinker illusion, and put in the Head Twister illusion. Dingy the Living Human Skeleton Man was with us most of the season, he pitched miniature bibles for a quarter. In the blow-off we had the Fish Girl illusion, worked with Gary's girlfriend. Most of the shows, I did my card fluorishes, and pitched. We had hired an old retired sailor, Pop Jones, as boss canvas man and ticket taker. We always had our house trailer behind the show, and this year the Franklins had a small trailer behind, also. All the years Lee and I had the sideshow, we furnished cots and sleeping bags, and all the help slept on these under the stage. (With the exception of a few actors we had later, who stayed off the lot, everyone lived in the tent. This is the way I came up, in my earlier years with Ray Cramer, and others.)...An artist advertised in the Billboard for sideshow banners- 8x10- $35; 10x12- $50. We bought two of each, sight unseen. The artwork was well- done, but a little risque for some of the shows we were on! Mr. Chapman (owner of Foley and Burke) almost had a heart attack when he saw them- the girls depicted were topless! (At this time our show was called "Strange Girls Alive!") Lee made bras out of bandannas and we glued these over the offending areas, and then Mr. Chapman approved of the banners!...I had had a lot of experience in my early days as a relief talker, so with my own show I put to use all the words and gestures I had learned. I did a lot of exaggerating, including some alluding to the bras and what they might mean! But 'tho I did exaggerate, we always had a good strong show, with no beefs!...This season the ticket prices were adults-50 cents: kids- 35cents. I Would "jam" almost every bally. That was: at the end of my spiel: "TICKET SELLERS, LAY AWAY THE ADULT TICKETS! THAT'S RIGHT, LAY THEM AWAY!!! FOR THE NEXT TWO MINUTES, AND TWO MINUTES ONLY, YOU CAN ALL GO IN FOR A KID'S TICKET!!! THAT's RIGHT, SEE THE COMPLETE MAIN SHOW FOR ONLY 35 CENTS...GET IN LINE!!! Believe it or not, on most of the fairs, the whole show had a 10 cent kid's day. Our tent would be so filled with noisy kids that we'd just pray for 5 p.m. to arrive! Most kids wouldn't stay for our complete show, as the rides were 10 cents also! But kid's days were always good, for the magic pitch and blade box. We didn't do the blow-off on kid's days...We played the very same route this season as last, closing in Ventura, CA...During the winter, which we mostly spent in L.A., we played a few spots in the L.A. area with Pete Sutton's Carnival. We also bought a used 15ft International van truck. And about this time, Sam Alexander got ahold of us to go to Honolulu, Hawaii for a two week run with the sideshow for E.K. Fernandez' Circus. We left Bill Unks, and the snakes (snakes may not be taken into Hawaii) back on the carnival. This was a real nice paid holiday! The show did terrific. Lee and I did our usual- Magic and Fire; Blade Box; and Atommic Girl. We were put up in a nice motel on the beach...We came back and joined Sutton's Greater Shows for a while. After this (spring of '61), I believe we joined West Coast Shows unit 1, for some fairs in Washington and Oregon. In California at this time, there were three major carnivals: Foley and Burke; Crafts 20 Big Shows; and West Coast Shows, who had two units covering the complete west coast... We had some of our regular people back, along with George Surtees, ticket seller and relief talker. His wife did some inside lecturing, and took care of Schlitzie the Pinhead, their ward. We featured Schlitzie all season. The Surtees were Schlitzie's guardians for a good many years. We were fortunate to have the Surtees, and Schlitzie, working with us for three seasons. Schlitzie was very well known as a sideshow freak, having even been featured in Todd Browning's 1932 film, "Freaks".We had some new banners from O'Henry Tent and Awning painted by Fred Johnson, and George had two banners for Schlitzie. We had a big season, playing with all three of the shows mentioned above, and again closing in Ventura. We spent the winter in a trailer court refurbishing our equipment, and hung out at the Showmen's Club in L.A... We opened in March of 1962 at The National Orange Show at San Bernardino, CA. We had bought a new bigger tent from Anchor Tent and Awning, and from Abbotts, the Spidora illusion, along with a banner for same. We had a full lineup, including Schlitzie. After the first day or two, the District Attorney closed up the Gaylon Siamese Twins, who had a show on the midway. Then they came after us, and we had to take Schlitzie out of the show. They cited old laws prohibiting the exhibition of freaks to the public. That was the only time we had this happen, until we got to the Bakersfield Fair in the fall, where we had to take her out again. This second time it was because of her banners, one of which billed her as "Last of the Aztecs"! Members of the hispanic community in Bakersfield objected to this...We toured California all season with the same three carnivals again...We had acquired a real "pickled punk" (two-headed human baby), the year before, and we exhibited this in the blow-off most of the season. By this time I had also built a big fancy electric chair to take the place of the Atomic Girl illusion. A young man, Jimmy Bates, had joined, and I taught him to lecture and do a little magic. He was a good worker, and he worked for us on and off for about three years. He'd work a few weeks, and then suddenly tell me he had to take off and go home- his grandmother had died. In the three years he worked for us I believe his grandmother died four times! We closed for the fourth season in a row in Ventura. Every year our grosses had gone up in each spot. Back to L.A. we went for a well-deserved rest...
Above: myself, Lee, and George Surtees. Below, the famous Schlitzie.
---
We Get Our Own Winter Quarters
Our well- deserved rest consisted of buying a new Jeep C.J. and driving down thru Baja California to Cabo San Lucas. This was before there was a highway, and the "road" was a very rough dirt track. Part of the time we even had to use a compass and map to find our way. From Cabo we drove back up to La Paz and over to the mainland on the ferry. We travelled clear across mainland Mexico and came out at Laredo, TX. We visited a couple of Mexican Circuses: one small circus wasn't any bigger than our sideshow! It had a magician, fireater, juggler, acrobats, some monkeys, dogs and ponies! A real dog and pony show! They actually asked us if we wanted to travel with them for a while, but we kept on going. This little circus really was doing big business in the little villages it visited...We really stood out in some of the places WE visited, too- we had this bright red jeep with a white canvas top, and then there was Lee, the striking blonde! I would always do a few tricks for whoever wanted to watch. Magic was (and is) really appreciated in Mexico...From Laredo we went on back to L.A. All told, this was a two- months' trip with lots of interesting experiences.....In Feb.,1963, we booked on the independent midway at the Indio Date Festival. We had a very good run there, but the state caught up with us, and fined us $300 for not paying social security and unemployment taxes on our employees. But we got everything straightened out with state and federal, and from then on we paid on a regular payroll. This was a lot of extra bookwork for me, but in the long run it paid off, as our steady help would draw unempoyment during the off season, and could come back to work for us when we went back on the road. Just before we went into Indio, we sold our jeep, and traded in our old trailer on a new Airstream trailer.....My memory of the 60's is spotty in places, as our books for 1959 thru '67 were destroyed. (However, from 1968 thru '87 I know every town and date I played, as I have all my books for that time period.) After Indio, I believe we went into Arizona, and joined Siebrand's Circus and Carnival, playing the Pima County Fair at Tucson. We jumped over and played The Yuma County Fair, then rejoined Siebrand for their fair season in New Mexico, Colorado, Montana, etc. The main season closed in Albuquerque at the New Mexico State Fair. Our employees for this season were: Bill Unks, who had now become a sword swallower; Jimmy Bates was doing magic and lecturing; and a 16-year-old fellow, Dino Diza. His mother had sent him to us after seeing our "help wanted" sign on the bally platform. He was a very good learner, I started him out eating fire; later on he developed a real nice magic act, including some sleight-of-hand with cards I taught him. He was with us for four years. We also had, at a few of the bigger fairs, Mr. and Mrs. Dodson. She was the Real Sheep- Headed Girl, who had been on tour many years under that title. They came out of retirement to work some dates with us. She was the blow- off attraction. He made the openings on the blow. We also had the usual assortment of bally girls and ticket sellers who came and went! We ended up in November playing a celebration in Tucson. We liked the Tucson area, and wanted to get out of smoggy L.A., so we started looking around for some property to call our own. Twenty miles north of Tucson was an area called Catalina- this small village had lots of property for sale. We found an acre two blocks off Highway 77 in Catalina; it was barren but had utilities already on it. We saw it and bought it! This was the same week President Kennedy was assasinated: we actually signed the papers as we were watching it on T.V. in the realtor's home! We had everything with us, so we moved right on to the property, and spent the winter repairing equipment and really just resting, this time! We began right away making improvements, like fencing, planting trees, etc. This was home, and our official Winter Quarters. I still live on this same piece of property today, and it's a very beautiful place with big trees, now. The "village" of Catalina has grown considerably in the past 34 years!.....What's Next?...Touring all over- 1964 thru '67; and the making of the movie, "She Freak"...
---