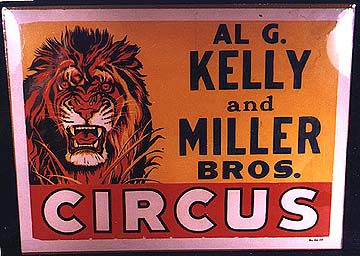 ---
I join the Circus
I went to Hugo, OK., winter quarters for Kelly and Miller's Circus. They hired me for the sideshow. Kelly and Miller was a well-known "mud circus", playing Oklahoma, Arkansas, Mississippi, and that area. I enjoyed my time with them. I worked magic and fire in the sideshow, along with some caged animals that were on display there. The owner, Orbert Miller, would come in occasionally and watch my sleight-of-hand act with cards. This made me feel good: that the show owner would take the time out to come and see me. I got $40 a week, plus room and board. And I got to keep all I made pitching a 25 cent magic packet. I learnd the pitching routine from a sideshow operator named Don Gilbert, who was on West Coast Shows, a year earlier. I didn't have to do any "chinese" (set up and tear down), but I did drive one of the semi-trucks from spot to spot- and we played seven towns a week! One show only on Sundays- so we had Sunday evenings off! I left late in the spring, as I couldn't get along with the talker-manager. He had a pitch also, and didn't want the competition!...I answered an ad in the Billboard (Amusement Business) for sideshow performers at Riverview Park, Chicago. The manager told me on the phone that I could pitch magic as well as perform. When I got there, I wasn't allowed to pitch, after all! It was the hardest $50 a week I ever made! We did about ten shows a day: I did some lecturing and outside talking, along with my act. There were about ten performers. I remember two well-known ones: Rasmus Nielsen, a strong man; and Betty Lou Williams (very well known), a girl who had her partially-formed twin growing out of her side. I left Riverview Park after three months, and joined a sideshow in southern Illinois. Don't remember the carnival's name, but the sideshow owner was a well-known impersonator of the time: Kitty Kelly. During the time at Riverview Park I had gotten married, to a gal who worked with me as an assistant. We stayed with Kitty Kelly's show the rest of the season. We ended up in Chicago, where I worked the winter for the E.O. Drane magic company as a deliveryman. Mr. Drane also helped me to get a few club dates. We left in the spring, and joined Jimmy Farmer and Linda Lopez's sideshow in Texas. Stayed for a few weeks, and went on to L.A., where I took a couple months of post-graduate courses at the Chavez College under the G.I. Bill. We stayed around L.A. most of the winter, and in the spring, my wife, who was ill, left me and went home to Iowa to live with her parents...I left L.A. soon after, and went to Seattle. I joined Rainier Shows: they had a complete sideshow but no one to run it, so I took over. I placed an ad in the Billboard for sideshow help. I got one reply, from a half-and-half (an impersonator who works a hermaphrodite act in the blow-off. The blow-off is an extra show, with extra admission, inside the tent). I don't remember her name, but when I could keep her sober, she was a hell of an all-around sideshow performer! After getting her out of jail several times, I finally gave up on her, and the show, and I went on back to L.A.! I stayed with my magician friend Dick Rushford (O'Shaunessy the Magician). He made his living tending bar and playing club dates. We would make extra money showing at talent nites in bars in the L.A. area. We generally would take home first and second prize, unless there was some cute kid act that we couldn't beat! Dick did a comedy magic act, and I did my pantomime sleight-of-hand act. So ends 1952...
---
Carny Magician on the Railroad Shows
I left L.A. in the spring of 1953 and after a couple of fiascos I answered an ad in the billboard for sideshow acts on the Metropolitan railroad show. I joined in Covington, KY., outside of Cincinatti. The sideshow owners were Ray and Helen Cramer. They had a real nice 10-in-1, with several people working for them. PoDo, the fire eater: Sealina, the seal girl: and her husband, who was the front talker. Sailor Ralph, tattoo artist and scenic painter for the show (he was very eccentric, but a great artist!). I can't remember all the people's names!...there was a very nice armless lady who did miracles with her feet. Numerous Bally Girls came and went! I joined as a magician and lecturer, with my magic pitch. There were other acts during the 2 years I was with Ray and Metropolitan Shows, but I can't recall all of them. I was paid $75 a week, plus 10% of the blade box pitch, and all my magic pitch. At this time I was getting my pitch supplies from Warwick Press, of Warwick, RI. My pitch consisted of a magic booklet, folding card trick, butterfly card, and a cigarette vanisher. This all cost me about 5 cents, and I pitched them for a quarter! Ray and Helen were the best people I ever worked for, and true mentors for me at this time in my life. Ray doubled as a lot man (Laying out the lot at each location; positioning each ride, show, and concession; and listening to the inevitable beefs about same) for The carnival. Helen was an extremely good front talker, and I remember that whenever there was a shortage of girls, she'd sit in the electric chair, jump in the blade box, or strip to her panties and climb into the Fish Girl illusion, which was the blow-off. [Please remember that when I mention any illusions, I won't be telling how they are done...a true magician never reveals the secret!] At the end of the season, which I believe was in Birmingham, AL.(the show's winter quarters), I went back home to Washington for a visit, and then I took a bus to Denver. It was cold and miserable, and I went broke, so I took a job as a soda jerk in the train depot at the end of Larimer St. I stayed a few weeks, got enough money, and went on back to Birmingham to re-join Ray Cramer. I was several weeks early, so I was given a job as assistant to the show painter. I received $5 a week, room and board, and, if memory serves, a pack of Bull Durham a day! (It's a little hard practicing cigarette sleights with Bull Durham!) We started out playing still dates (that's towns that are not fairs or celebrations), then went into the fair season all over the Atlantic seaboard. I should say here that although Metropolitan was a railroad show, the show people didn't travel on the train- just the show equipment, rides, etc. We 'car-pooled': some of the people who had cars gave rides to everyone else! PoDo the fire eater was my best friend on the show. He was a dwarf, and had his own specially-fitted car, which we travelled all over in. All the same people were back on the show for the 1954 season. At the end of this season, I bought an old red convertible, and drove down to Miami,FL.,much to my regret- I couldn't find anything to do, so I drove up to Chicago, my car petered out on me, and so I sold it for a few dollars and took a job washing pots in the restaurant of a private club all winter! It really wasn't that bad of a job, and I did get a couple of club dates, too...Spring of 1955, PoDo got hold of me in Chicago, and asked me to go on a railroad show in Canada with him. I left immediately (to get away from the pots!), and joined PoDo (whose real name, by the way, is Cliff King) at his home in Rochester MN., and from there we went on to the show. I don't remember the name of the carnival, or of the sideshow owners, but it was a big railroad show. Three of us performers shared a stateroom on the train. PoDo, myself, and I believe his name was Freddy Strunk- a young armless wonder, who was completely self-sufficient. One of the features of his act was tossing a regulation horseshoe with his feet, making a ringer every time!...After a few weeks, Ray Cramer got ahold of me, wanted me to work the inside of his panel-front illusion show on Cetlin and Wilson Train Show. This was more to my liking (operating an illusion show), and so I left immediately to join Ray. It was a great show and a great route on the Eastern seaboard. I lectured Blade Box, Electric Chair, Fish Girl, worked the Shredder Illusion, and my favorite: Baffling Donna, which I consider one of the greatest sucker illusions for a sideshow: the disappearing duck. I also did my sleight-of-hand act, and pitched magic. I remember at one spot, Ray introduced me to a pitchman he knew from the past, one of the Delenz brothers, who pitched for a week and I assisted him- I learned a lot from him about pitching for more money. After I'd been there a couple of weeks, PoDo came in from Canada, and did his fire act and helped Helen talk on the front. This was a great show in all respects, and we did a lot of business. Late in the season I bought a used walk-in bread truck, in Virginia, and later drove it all the way to L.A. to spend the winter.
Here I am on stage in the sideshow at Clyde Beatty's Circus.
---
1956- The BIG Year
In January, 1956, my friend Val Lewis (Alexander the Magician) and I drove my bread truck to a little town in Oklahoma to join Lee Grable's Magic Show. Lee is a well-known magician who is especially famous for floating and revolving his wife in mid-air as she plays the piano. Alexander was stage manager, and I was the assistant. We played in Louisiana and Mississippi. Part way through the route I was contacted by Charlie Cox (more about him later), who asked me to join Clyde Beatty's circus. A replacement was found for me, and I was on my way. I picked up my truck and joined the circus in winter quarters, Deming, NM. We opened in El Paso, TX., and during our 3-day engagement, I went over to Juarez, Mexico. I was sitting in a bar putting together cigarette vanishers for my pitch with a small staple gun when- I got arrested! The police were suspicious as to what I was doing. At the jail I was able to finally convey to them what I was doing. They then put me in a room, and it seemed like most of the police force came in to see me perform! I made cigarette vanishers for all, and did some sleights with whatever I had in my pockets...finally they let me go! Charlie Cox and Sam Alexander were the side show operators. I don't remember all the acts, but there was a fat lady; a bearded lady; a fire eater; I worked the blade box, did my magic act, and pitched. Sam Alexander was in the blow-off as the man with two faces. I had been on this circus for a very short time a couple of years earier, and that time I'd had to share a berth on the train with another man. This time I had my bread truck, and drove it overland instead of sleeping and travelling on the train. Much to our surprise, after a few weeks, no one on the circus was getting paid, and then the show just folded! This was in California- the circus had gone bankrupt owing everyone two weeks pay. Charlie Cox was able to book me with Dick Best on Royal American Shows. I drove my truck to Minneapolis, where I put it in storage... never to see it again! From Minneapolis, the show was going to Canada. I was booked on as magician and second lecturer. We all lived on the train, but we did little more than sleep there, as Dick Best had a very early call each morning. The sideshow would open one hour before the rest of the carnival, playing to fair workers, earlybirds, and so forth. I didn't have to do any "setting-up" or "sloughing" of the equipment- my only job was carrying Freida Pushnick (I think that was her name), the half-lady, off the train in the morning, and taking her to the lot on the jitney. I dont remember all the acts, but one well-known performer was Melvin Burkhart, the human blockhead. There was also a giant; the half-lady; and a glass-blowing concession. Illusions included the Electric Chair and Blade Box. I did a magic act, ate fire, and pitched my magic packet. The alligator girl was in the blow-off. I got $75 a week and 75% of my pitch. It was a long, tough grind, as we were playing some large Canadian fairs. A few weeks into this, all the fillings the army had put into my teeth a few years earlier fell out, and I began to be in severe pain- so much so that I had to leave the show. I flew over to Vancouver, Canada, my parents picked me up, and took me to Big Lake. I stayed a few weeks and got my dental problems taken care of, then went down to L.A. In the fall Charlie Cox contacted me again, this time to join a show in Valdosta, GA., which was going down to Cuba. I took the bus to Valdosta, and joined Bill Chalkis' side show. We were off to Cuba to join Coney Island Shows of Cuba, in Havana. It was rough down there, Chalkis paid our hotel rooms, but we were only paid $5 a day! I couldn't make much with my pitch, as I didn't speak spanish. The performers that I remember were: The Thompsons (knife throwers), and Freddie the armless man. I did magic and fire, and we had a couple of ilusions. I believe there was also a Cuban contortionist. Charlie did the talking. The best part of the trip was Torchy Lee Collins, who worked a single-O girl show in the states for Chalkis. He'd brought her along to work as a bally girl and in the blade box illusion. She was a very beautiful woman. She and I became an item, but after three or four spots she wanted to get out of Cuba, and she wanted me to go with her. But Chalkis was holding our working papers (visas), and wouldn't let us have them. Torchy had money, and told me if I could help her get out, she'd give me a ticket to anywhere I wanted to go. So we ran off, got to the big ferry in Havana, and for a few bucks (greasing the right palms!) we were on our way to Key West. She lived in Tampa, so we went up there. I stayed around a few days. She then wanted to go to Pennsylvania to visit her sister, so I was off to L.A. This was January, 1957. Torchy Lee and I got together later, and were married in 1959. In the ten years between 1946 and 1956, I had been married three times, but none of the marriages had lasted- the girls just couldn't keep up with my carny lifestyle! Lee and I were married and operated sideshows together for many years. She passed away in 1992. ... In January, 1957, in L.A., I began to think I'd like Lee to join me out there. I got a job driving a taxi cab, and I sort of liked it! The money was pretty good, and I was able to save some. I began to buy pieces of show equipment here and there. When summertime came I applied for the job of magician on The Pike, at Long Beach. Tony Marino was the manager, and a great sword-swallower! I got the job without an audition, as I had become known in the business. There was a fat lady, some working acts, Blade Box, etc. The headless lady illusion was the blow-off. I pitched magic, lectured the inside of the blow-off, and got some more experience talking on the outside. I worked all season at The Pike, and in the fall I began driving cab again. I had been corresponding with Lee all this time. She didn't want to work girl shows any more, and of course she couldn't go back to work for Chalkis anyway, so she joined me in L.A. that fall. I drove for Yellow Cab through the spring of 1958. Lee and I answered an ad in the Billboard for a sideshow magician on the Wm. T. Collins Show, to join at Cedar Rapids, Iowa. We answered by telegram, asking for a salary of $150 a week plus pitch, for the two of us. They told us to come on in. So we took a chance- we bought an older model Cadillac, and drove off cross-country to join them. As soon as we got there, the side show manager told us we were to go to see Mr. Collins immediately- he wanted to see why we were so great that we should ask $150 a week! (This was an office-owned show, and $50 a week was the usual salary.) We always dressed and conducted ourselves very well and in a professional manner, and so we managed to impress him $150 worth when we went to see him! The side show itself was very nice, but had been rather mis-managed for some time, and there weren't many acts. The side show manager himself was an ex- girl show owner and operator, but by this time in his life drinking had gotten the best of him. But we all pulled together and managed to make it a good show. After two or three fairs, Mr. Collins had us come to the office, and gave Lee the job of paying the help in the sideshow, as there had been problems in this area before. We stayed the commplete season, closing at the fair in Tulsa, OK. At that time we bought, sight unseen, a complete girl show on a semi truck, for $500. This was stored in Louisiana at a fair grounds. We drove down to pick it up. All the truck needed was a battery- we drove it down into the panhandle of Florida, and joined a carnival as a "circus side show". We hired a painter to paint out the girl show stuff; had a carpenter build us a blade box, put some banners we already owned on the front, and we were in business. We played some early winter fairs, mostly as a magic show, and ended up in Gibstown, FL. Neither one of us wanted to stay in Florida, so we traded the semi for a small house trailer, put the main part of the show equipment in it and the car, and took off for L.A...What's Next? Vanteen and Lee's Circus of the Fantastic...
---